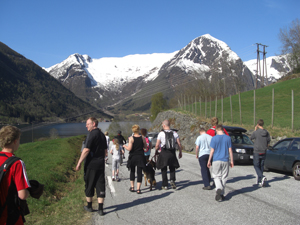 Esefjorden Rundt
1 May 2023
From Tjugum (by the church) to Balahaugen (by the King Bele Statue).
On 1 May every year. "everyone" in Balestrand walk around the fjord Esefjord.  During the walk we answer questions, like a quiz. 
Refuelling is no problem: it is possible to buy ice cream, soft drinks, hot dogs and waffles. When families and "normal people" have crossed the finish line, it is time for the elite.